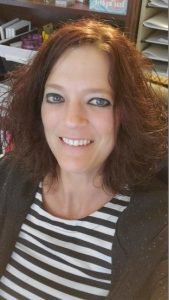 BIO: Jenny is a Dual Diagnosis therapist at Greenbriar Treatment Center's Washington Inpatient location. She has been with Greenbriar since 2010, where she began her career in the addiction recovery field. Jenny holds a Master of Social Work degree and also brings valuable lived experience as a person in recovery for 16 years to her clinical practice. As a breast cancer survivor, Jenny has decided to embrace all that life has to offer and shares her passion for life with those around her. In her free time she enjoys running, spending time with family and friends, or hanging out with her cats. Jenny's dedication and commitment to her client's is one of the many things that makes her an amazing therapist!
Questions & Answers                
Q:  What motivated you to enter the drug and alcohol treatment field?
A: In 2010, I was looking for a part time job and was hired at Greenbriar's female halfway house, The Lighthouse for Women.Being in recovery, I felt this was the perfect job since I have always wanted to help others. After working as a treatment tech for a few years, I decided I wanted to pursue a career as a therapist. I went back to school and graduated with Master's in Social Work and have been working as an Inpatient therapist since 2015. I really love what I do. It's not always easy, but I try my best to reach my patients and guide them on their path to recovery. 
Q: What is the most difficult part about the work you do?
A: For me, the most difficult part about working in treatment is finding out a former patient has passed away due to their addiction. Sometimes I question myself, wondering if I told them the right thing or helped them enough, but then I remember that we are battling a disease that is out to kill us and not everyone wins the battle. Being a drug and alcohol therapist, it is a harsh reality that I face daily.
 Q:  What advice would you give someone who is struggling with a substance use disorder?
A: To anyone who is struggling I would say, please reach out for help. There are millions of meetings across the world that will welcome you. Get to treatment as soon as you can and don't be ashamed to ask for help. Everyone needs help at some point in their life. There are places and people who want help you.